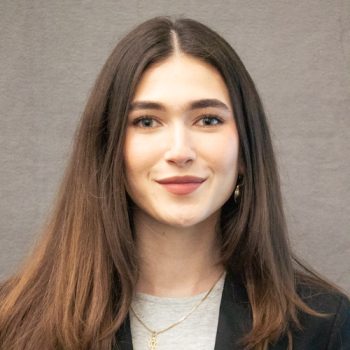 Tessa Veksler
President
Independent
STATEMENT
Hi Gauchos! My name is Tessa Veksler, and I am a 3rd year Political Science and Communication double major. As a first generation American woman of Ukrainian Jewish descent, I am thrilled to announce that I am running to be your next A.S. President.
I have been dedicated to serving my community and solving the inequalities around me since I stepped foot in Isla Vista. These past few years, I have been steadfast in elevating our campus community. This has made me tough, resilient, and more determined than ever to fight for the university I am so proudly a part of.
My A.S. Experience:
→ Co-Commissioner of Mental Health in ASOP under former President Yuval Cohen
→ Letters & Science Collegiate Senator authoring/seconding 10+ pieces of legislation
→ Chair of the Standing Committee on Basic Needs
→ Senate Liaison to LRC, COSWB, and PMHC
Associated Students has a lot of work to do in regaining the respect it once had on this campus, and I am dedicated to pioneering this effort. Here are just a few of my goals as President:
→ Ensuring student fees are spent BY students, FOR students through efforts such as providing free testing materials to all students, a resource that should be covered by tuition
→ Amplifying student voices to the university, especially marginalized and under-represented groups by ensuring quarterly meetings with cultural organizations and working on collaborative initiatives
→ Creating a new website that would display existing organizations at UCSB, increasing the accessibility of available resources and decreasing overlap that slows progress and effective financial spending
→ Continuing efforts from previous presidents to eliminate Saturday exams and voice student concerns for Munger Hall
You all inspire me daily! I look forward to meeting each and every one of you. To connect with me, please find me on Instagram @tessaveksler or email me at tessaveksler@ucsb.edu.
Vote Tessa for President!
#TurnoutForTessa
*Titles for ID purposes only