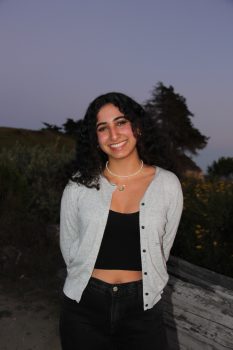 Yael Berukhim
Off Campus Senator
Storke Party
STATEMENT
Students deserve a voice in the institutions they are enrolled in and being the means to which they can use their voice is a great responsibility; a responsibility I am keen to uphold.
Being a senator in AS means connecting to all students, not just those who keep up with the happenings of UCSB and AS. Ensuring minority students, transfers, and commuters are just some of the subgroups I, as a senator, will put extra effort into representing. While their presence on campus may be overlooked when appealing to the majority of the student body, extra attention must be paid to understand the opinions of students who aren't immediately jumping at the opportunity to share their views on school-wide happenings.
Advocating for student involvement in campus life, whether it is through AS or not, is key to strengthening our campus community. Entering UCSB means being incorporated into a giant campus with tons of clubs and organizations getting thrown in your face. This is often overwhelming and leads students to opt out of joining these groups. Finding a more efficient way to connect students to groups they care about is key to my platform.
Mental health is key to success in and out of college. UCSB likes to flaunt its extensive CAPS program. However, if you've ever tried to make an appointment it usually takes months for one to be available. Working with CAPS to locate areas of improvement in the program will be a top priority so students have easy access to the mental health services they need.
Climate change is a serious threat to our planet and with such a large student population and campus, UCSB wields a lot of power to enact climate-friendly acts into everyday campus life. Another priority of mine will be working with heads of campus and dining hall operations to implement more sustainable means of operating at UCSB.
I'm elated to announce that I'm running for Off-Campus Senator to ensure all students are represented and can find post-grad success after their time