---
Endorsed by:
UCSB Girl Up,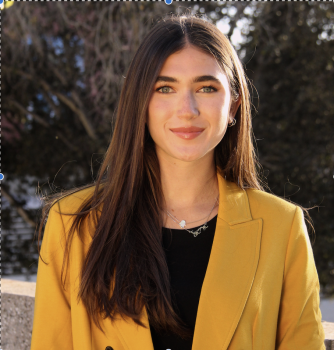 Tessa Veksler
Collegiate Senator - Letters & Science
Storke Party
STATEMENT
Hi, my name is Tessa Veksler and I am thrilled to announce that I am running to be your next senator for the College of Letters and Science with Storke Party. I am a second-year student studying Political Science and Communication. After spending a year working as the Co-commissioner of Mental Health in the Associated Students Office of the President, I have gained valuable experience in student government and developed a passion for mental health advocacy. During the 2021-2022 school year, I planned and moderated UCSB's annual Mental Health Town Hall which informed students about the variety of mental health resources on campus while providing a platform for students to ask questions and express concerns about mental health at UCSB to administration.
As a Ukrainian Jewish student, the recent conflict in Ukraine as well as the persistent antisemitism experienced by Jewish communities worldwide has driven me in my activism. However, I understand that these aspects of my identity do not come close to representing the diversity of our campus community. As your senator, I would dedicate myself to those disproportionately affected by inaccessibility to campus resources. I will be available to hear and address your concerns – I will not speak for you, but rather be a voice for you in our senate.
Therefore, my top priorities as a senator will be:
Advocating for greater accessibility to mental health resources on campus
Responding swiftly and passionately to ongoing current events crises by listening to affected communities and implementing change
Uplifting and empowering students' voices surrounding complex issues
Assisting student needs by creating task forces and directing them to valuable campus resources
I'm immensely driven and excited to get started, but most of all, I look forward to getting to know YOU. I am here to listen and to be a resource to YOU, and I intend to do my best to not only be your campus leader, but your fellow student, resource, and friend.