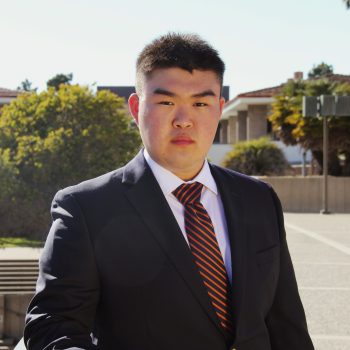 Nathan  Lee
University Owned Off-Campus Senator
Storke Party
STATEMENT
Hey Gauchos,
My name is Nathan Lee, and I'm a second-year Economics and History double major running to be your next University-Owned Apartment Senator. I'm running to help everyone at UCSB to belong and provide everyone at UCSB with better resources in terms of Career, Academic, Respect, and Extracurriculars (CARE).
My experience ranges from serving as the President of San Rafael, which has almost 700 residents, as an officer at the Thomistic Institute to singing in the choir at St.Mark's University Parish. These experiences inspired me to improve UCSB and use my platform to advocate for my constituents.
I CARE for the students at UCSB:
Careers are what most of us seek after university. As a senator, I will work with local businesses, faculty, and university departments to make job opportunities more accessible to average UCSB students so everyone can find a job or internship that they are passionate about!
Academics: Covid changed all of us, including how we learn. As UCSB gets back to normal,I will strive to retain COVID-era learning practices and procedures such as late drops, online exams, lecture recordings to better accommodate all students. I will also introduce legislation to incentivize faculty to better accommodate students.
Respect for Religious and Cultural Minorities: I have come to understand the hostile environment that religious and cultural minority students often have to face. I'm willing to defend the right of every student at UCSBs to practice and honor their religion and heritage without speed bumps from the university. I will work with religious and cultural groups at UCSB to understand their needs and work towards them.
Extracurriculars: they are what make UCSB special. Every Gaucho has something they are passionate about outside of the classroom, and I will fully support them. I will work with SEAL to develop a more streamlined approach to approve and support new Campus Organizations.
Vote for Nathan Lee; I CARE!