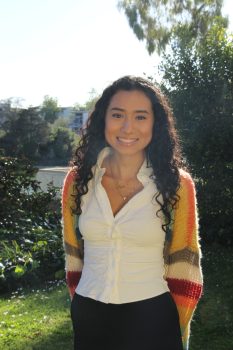 Mina Matta
Collegiate Senator - Letters & Science
Storke Party
STATEMENT
My name is Mina Matta, I am a second-year history of public policy and law major. I am running to be your Collegiate Senator of Letters and Science with Storke Party. I am currently the Vice President of Diversity, Equity, and Inclusion for Alpha Chi Omega and I served as a Pearman fellow for the Associated Student Living History Project. These leadership experiences have given me the knowledge and passion to represent and advocate for the student body.
As a senator, I plan to expand campus resources and make them accessible and available to all students.
Expand Mental Health Resources
Improve Academic Resources
Build Student Resources
As a second-year student, I have noticed that the pandemic caused a great disconnect between students, faculty, and administration, which is why my goal is to acknowledge this discrepancy and improve the communication between these groups. I have found that the students I have interacted with, along with myself are desperate to not just have their grievances heard but also alleviated. I understand that I am limited in my power but I will do everything that I can, to make sure Letters and Science students are heard and have the resources they need to reach their full potential at UCSB. I plan to advocate for ALL students and empower their voices and help them recognize how capable they are of making a difference.
Vote Mina Matta for your next Collegiate Senator of Letters and Science!