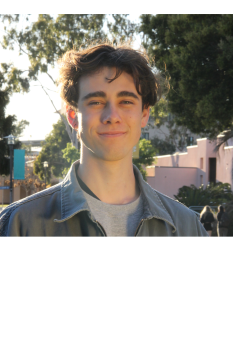 Kellen Beckett
Collegiate Senator - Creative Studies
Storke Party
STATEMENT
Hi all! My name's Kellen, I'm a second year CCS Writing and Literature and Political Science – International Relations double major running for College of Creative Studies Senator! This past year I've served as the AS President's Director of Alumni Affairs, successfully promoting streamlined student-alumni communication, and co-hosting events with UCSB's Alumni Office to inform students of resources that exist to help them in their future career hunt. I also worked to involve more students in AS through the Pearman Fellowship, which drives involvement in our student government.
As a first-generation student, I had no idea of the resources that exist to help students pursue their passions. Through my work in the AS President's office, as well as exploring the numerous opportunities CCS offers, I've found a wealth of opportunity that I had no idea existed. If elected to the Senate, I aim to create and promote resources for non-traditional students and advocate on behalf of all CCS students. Additionally, I will:
- Restructure mental health resources to create a lower barrier of accessibility
- Work with administration to create networking/social events for more CCS students to meet each other and develop relationships
- Promote transparency within AS, and pursue a more intuitive website so that students can understand and access its resources more effectively
Thank you and vote Kellen for CCS Senator!
*Titles for ID purposes only