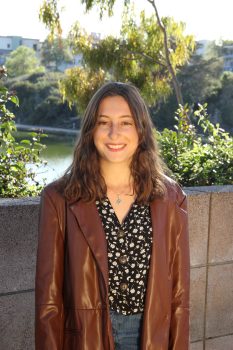 Jessica Klein
Off Campus Senator
Storke Party
STATEMENT
Hi Gauchos!
My name is Jessica Klein, and I am a first-year Global Studies major. I am running with storke party for off-campus senate.
I have enjoyed my time at UCSB's beautiful campus so far! However, I believe that with hard work I can help fix some of the underlying issues that this university faces, such as sustainability, accommodations, and safety. Through my experience, such as volunteering in political teen organizations such as the Jewish Youth for Community Action, I want to engage with our student body and support these three overarching issues.
My first vision for UCSB is to improve the overall sustainability of the community. To create a more sustainable environment, I will incorporate additional recycling programs on and off-campus, reduce the use of single-use plastics, and organize events to clean Isla Vista streets and beaches. With these steps, we can protect our local community and significantly impact the world.
My next vision for UCSB is to improve accessibility and availability. To create a campus and community that supports all students, I will increase the accessibility of essential resources such as textbooks in school libraries, focus on the dispersion of feminine hygiene products and contraception, and increase parking and elevators for students who require these accommodations.
Our university also has an underlying and recurring issue with sexual assault. I will work with the university and faculty in efforts to improve the safety of students and increase awareness of sexual assault. I will work with organizations like SASA, CARE, and CAPS to increase funding and availability, improve safety programs such as escort services, and focus on the dispersion of alarm whistles and other safety methods.
It is essential that the student population and their needs are heard. With my election, I will ensure that I meet your needs by reaching out and working closely with the student body.
Vote Jessica Klein for off-campus senator!