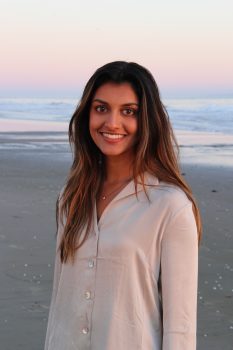 Gurleen Pabla
President
Storke Party
STATEMENT
On my first day at UCSB 3 years ago, I watched former-President Alison Sir inspire the incoming student body. I didn't know what the next few years would entail, and I certainly didn't think I would be deciding to run for President today.
2 years ago I was elected as an AS Senator. With the knowledge I gained from that position, I have dedicated myself to running President Yuval Cohen's office as the Head of Staff while also serving as Vice Chair for Isla Vista Tenants Union this year. Throughout this time, I have seen countless flaws within our greater system that require a more proactive response.
This is why I am running for President. Lack of transparency and internal imbalance have left students wondering who truly represents their interests. I'm tired of wondering how we can address our concerns; it's time to start taking action.
As President, I want to rebuild the value that student officials once had on this campus. I want students to trust that their concerns will be taken seriously.
>Eliminate Saturday exams for students to prioritize mental health and wellbeing;
>Push for more effective access to mental health services;
>Represent the true opinions of students regarding the housing crisis and Munger Hall, and reassessing the priorities of our basic needs to reach more students;
>Instate new procedures to allow academic accommodations for survivors and students facing situations that make education difficult;
>Influence projects to address the low quality of existing campus infrastructure;
>Continuing and improving unfinished projects from the past few years;
These are just a few aspects I will focus my Presidency around. One thing I can promise is that I will never give up on my love for this campus and my passion to represent and support every student within it. Your voice is my strength and together, we can move mountains.
For more information, visit my instagram @omgurleen, DM me, or email me-gurleenpabla@ucsb.edu.
**Titles for ID purposes only