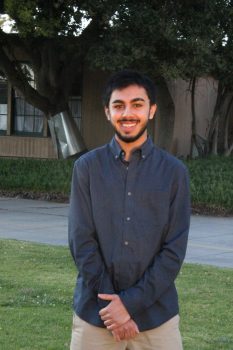 Ehsan Varnous
On Campus Senator
Storke Party
STATEMENT
My name is Ehsan Varnous and I'm a 2nd Year Middle Eastern studies major running for On Campus Senator with Storke Party. This past year, I have been working in the Office of the President as the Media and Technology Coordinator. I've decided to run for AS Senate because I want to leave UCSB a better place than I found it.
Throughout my first year, I have listened to my friends and peers complain about problems they are experiencing, and I have observed problems myself, such as the neglected club system, the ridiculous wait times for CAPS, and UCSB's overly reactive stance on physical and sexual violence. All students deserve to have their voices equally heard, and I'm here to be that platform.
My first priority will be making UCSB a safe place, where we do not have any stigma about mental health issues. I will have informational and interactive events related to mental health topics. I want "less talking and more action" to be the motto of UCSB. As a governing body, we need to stop assuming the needs and wants of students. I want to actually talk to students and hear from them about their concerns. This will be a step to change UCSB's environment into a safer yet free place for all the diverse communities.
Because of my experience with the Office of the President and several other organizations, I believe that I have the passion, credibility, and understanding of AS Senate and the position itself. I believe I can help UCSB grow and get better every single day. I understand that I cannot claim to have experience from every demographic, but the beauty of working as a student for students is that I can truly listen to what they have to say about enhancing campus life. We can all agree that there is always work to be done, and I hope that I can offer a voice to everyone I represent so that they feel at home here no matter who they are.
Vote Ehsan Varnous for your next On-Campus Senator!