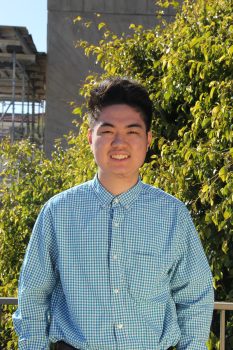 "Eddie" Shihao Zong
On Campus Senator
Storke Party
STATEMENT
Greeting my fellow Gauchos!
I, "Eddie" Shihao Zong, am running to become YOUR next On-Campus Senator! Ever since I got accepted into the AS IVP Office, I have dedicated myself to advocating for student's interests with numerous beneficial projects.
In response to the number of violent cases occurring around the campus community, I, with support from Mrs. Bee, immediately took action to address student concerns by creating the Campus Student Safety Project. I have discussed with the Vice Chancellor Margaret and Chief of Police Alex about hosting upcoming events to increase student awareness and protection. Please join us in the effort of making the campus a better place for all.
Moreover, on March 7 from 17:30 to 23:00, I joined the Blue Light Safety Walk, with Chief of Police Alex and Dean of Student Wellness Angela and many others, to inspect campus's safety lighting and equipment in order to ensure the safety of the student body. Our inspections were very fruitful and I have been working with university administrations to work out the details of those improvements to meet the needs of the student body.
In addition, I have been actively advocating towards State Senator Wiener to expand financial aid and on-campus housing in order to meet the needs of UCSB students. I believe that the state legislature should allocate more state funding in higher education.
With your support, we can
- Advocate for more budget from the state and university to increase On-Campus Housing that aim to build a safe, healthy and comfortable living environment for the students.
- Push for more budget allocated for Residential security and safety measures to reduce the risk of crime like bike thief and other negative activities that impact the student's life.
- Advocate for better facilities, like better WiFi, in the residential hall to increase the overall living quality.
Again, Vote "Eddie" Shihao Zong for On-Campus Senator and Vote Stroke Party on Gold.