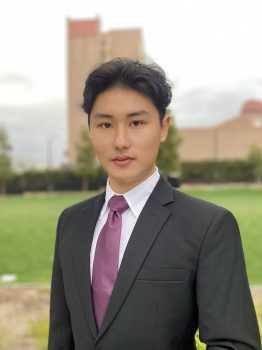 Boyi Wu
International Senator
Independent
STATEMENT
How's it going my fellow Gauchos!! I am Boyi "Billy" Wu, 吴柏毅, and I am running to be your next International Senator! I am a 1st-year,1st-generation international student from Shanghai, China, majoring in political science. I am keenly aware of the struggles and loneliness many international students, including myself, experienced when we first arrived. We are one of the most underrepresented groups here at UCSB. We take up almost 15% of all student population, yet we only have 2 seats in the Senate, introduced last year. Our languages and cultural differences made it hard for us to access vital resources and made our voices unheard. But I believe we have the ability to acknowledge and embrace our differences and that's what makes us strong.
My Experience:
Professional - A.S. EVPSA Federal Policy Analyst, Intern Director for California State Assemblyman Phillip Chen.
Reliable - Senior legal assistant at Blum Collins Ho LLP; Senior legal assistant at Zhong Lun (中伦) Law Firm.
My Vision:
REPRESENT the voices of all international students in the Senate and push for further partnerships connecting various international student organizations with A.S. entities and allocating more funds to international student organizations to combat expansive tuition and housing costs.
ADVOCATE for more reasonable, flexible, and lenient return-to-campus policies for all international students traveling home under COVID restrictions placed by their governments.
FIGHT for a safer campus and Isla Vista by expanding the Safe Transportation Task Force to include more international students and work with various international student organizations in promoting safety and legal education.
ENSURE all major campus resource centers such as CARE, CAPS, Career Service, RCSGD (Resource Center for Sexual and Gender Diversity) to include more services catered to international students with more languages and international students staff.
VOTE BOYI "BILLY" WU as your #1 INTERNATIONAL SENATOR!!