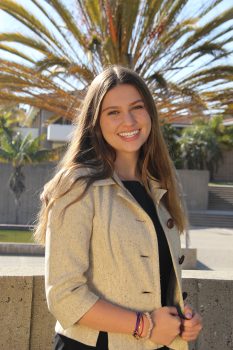 Alexa Grines
Off Campus Senator
Storke Party
STATEMENT
Hi, my name is Alexa Grines and I am super excited to be running to be one of your Off-Campus senators with Storke Party. I am a third year political science major from Los Angeles with a passion for many things including advocating for others, as well as accessibility to mental health resources. I am currently a member of Tau Sigma Honors Society (an honors society for transfer students), an involved member at Chabad of UCSB, Hillel as well as SSI.
I love UCSB. As a transfer, I was elated to begin attending such a unique school with so many opportunities. The transition back to in person learning was difficult for me and many others likewise. This transition caused many individuals, including me, to struggle with mental health. CAPS was a resource recommended to me, but I was disappointed to see how difficult it was to use this resource. As a senator, I will make mental health resources such as CAPS easily accessible as well as promote it so that students know exactly where to go when they need it.
Recently, the UCSB community has been rocked with concerning emergency alerts. Not only do these alerts worry the community, but it also has us all wondering what is being done to prevent these events from occurring. Last quarter, most UCSB students did not know the CSO resource was available to them until after these alerts took place, and that is unacceptable. As senator, I hope to work with the CSO team in promoting them and encouraging students to take advantage of the resources they offer. Along with that, I hope to increase the action taken by UCSB to educate students about sexual violence, harassment and crimes by implementing a quarterly townhall addressing these issues.
UCSB is my second home. I know that being at a place that I can call my home requires a certain amount of confidence that I am being kept safe and being heard. I hope to be a voice for you in our senate as well as a resource, not only as a leader on campus, but also as a peer.