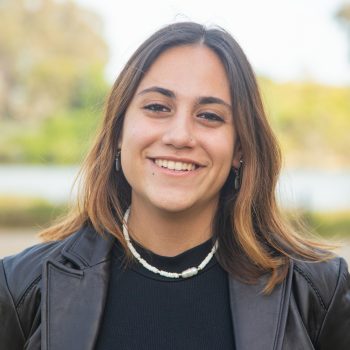 Yuval Cohen
President
Storke Party
STATEMENT
Hey Gauchos! My name is Yuval Cohen (she/hers) and I'm running to be YOUR next President with Storke Party!
As a first-generation student, I am lucky to be a part of such an amazing community here at UCSB. I know that this year has brought on many difficulties for us all, and I am determined to bring forth all my passion and dedication to fulfill the needs of students. I am qualified, capable, and ready to be the voice of the students and advocate for YOU.
MY EXPERIENCE:
- Current Off-Campus Senator
- COVID-19 Task Force Member: provided hundreds of students with emergency grants
- Basic Needs Committee Chair
- Director of Dream Scholar Affairs for the Office of the President
- Fellow for the Office of the President & Human Rights Board
- UC Advocacy Network Student Ambassador
- AS Visions Task Force Member: ongoing project to plan for the future of UCSB based on the changes students express they desire
MY GOALS:
Basic Needs
- EXPAND the AS COVID-19 Emergency Task Force Grant by reallocating more unused student funds back to students
- GROW the Mental Health Town Hall and mental health resources on campus
- ASSIST the AS Food Bank in implementing a pop-up location in Isla Vista
- COLLABORATE with SVSH organizations to support survivors
- SUPPORT undocumented immigrants on campus by working with USS and IDEAS to raise awareness and expand resources
Academics/Education
- IMPLEMENT a 24 hour cafe on campus
- PRIORITIZE outreach, specifically towards freshmen and transfers, in order to effectively promote campus resources
- EXPAND outdoor study spaces and wifi accessibility off campus
- INCREASE online textbook access and printing access
- ADVOCATE for administration to reduce tuition and student fees
- ESTABLISH more academic advising and mentoring programs
I want to advocate for you! If you have any questions or ideas, don't hesitate to email me at ycohen@ucsb.edu. Remember to VOTE Yuval Cohen as your AS President and VOTE STORKE!