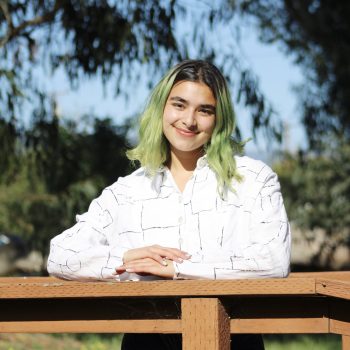 Ranna Zahabi
Off Campus Senator
Isla Vista Party
STATEMENT
Hey everyone! My name is RANNA ZAHABI (she/her/hers) and I'm running for the OFF-CAMPUS SENATOR position with Isla Vista Party. I'm a History of Public Policy & Law Major and a Comparative Literature minor.
Like many of you, I came to this school in the middle of a pandemic and internalized a lot of the uncertainty that followed. I've gotten involved in different clubs like CalPrig and the Persian Student Group as well as the Engaging Humanities program. Like many students who have only been at UCSB during Covid, I've felt stuck until I found this opportunity with the ISLA VISTA PARTY to channel my mix of frustration and inspiration into action. Being your senator would allow me to apply my urge for advocacy at a level where we can all see change materialize--ultimately to serve you as a constituent and our community as a whole.
MY VISION WHEN ELECTED IS TO:
ELIMINATE the normalized toxic mold issue in off-campus housing by collaborating with the EVPLA (external vice president for local affairs) office.
ADVOCATE for livable rent prices across the board and hold property managers accountable for taking advantage of students
AMPLIFY underrepresented voices by holding regular forums and opportunities for community members to get involved
REDUCE policing in IV and the threat/fear that accompanies heavily policed minor infractions
EXPAND accessibility to CAPS (counseling and psychological services) to ensure students'
basic needs are met
CREATE a safe atmosphere, both physically and emotionally, by fostering an environment
that prioritizes working with survivors
Remember to vote RANNA ZAHABI for OFF-CAMPUS SENATOR with the ISLA VISTA PARTY !!!