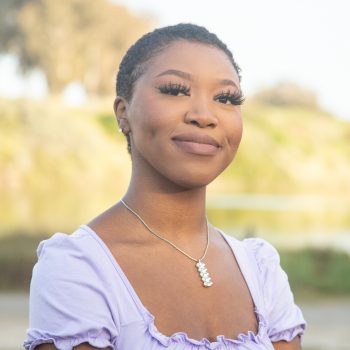 Brieonni Johnson
Off Campus Senator
Isla Vista Party
STATEMENT
Hey y'all, My name is BRIEONNI JOHNSON and I am running to be your #1 Off-Campus Senator. I am a second year Psychology and Brain Science major and a proud ZEN member. What I want to bring to the table to the A.S. Senate is intersectionality, student advocacy, and accountability.
In the past, I have worked with multiple organizations:
Zeta Sigma Nu Inc.
- A sorority designed as a safe space for people of color and LGBTQIA+ groups, which is not only part of my two identities but what my platform encompassses: intersectionality and a safe space for students!
- As Social Media Coordinator, I have properly implemented working with multiple different people regardless of situations in order to post accordingly on time as well as making sure to do it in a friendly manner.
- As Chief Justice, I have gained experience learning to view all situations from a neutral perspective and to pick the best outcome for all parties involved by providing proper justice.
EVPSA
- As Racial Justice Coordinator, I have attended multiple conferences and zoom meetings that have truly broadened my scope of knowledge of what justice means and learning about grassroots work.
MY VISION AS YOUR OFF-CAMPUS SENATOR:
CREATING an environment where students can feel safe and felt like they are the first priority at this institution, regardless of their situation or identity
OVERSIGHT: Holding the university and its professors accountable to our highest capacity to ensure the best opportunities for students under remote instruction
DEVELOPING a network and devise a plan to help the retention rates of disenfranchised students and active support for mental health
MAKING CAPS more accessible and productive for the student body
In order to achieve these goals of a better campus, I need your help by voting for me as your off-campus senator this Spring 2021!