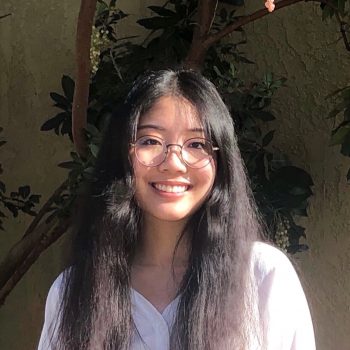 April Zhang
International Senator
Isla Vista Party
STATEMENT
What is up Gauchos!
My name is APRIL ZHANG 张若凡. I am a 1st year Sociology major from Shenzhen, China, and I'm super pumped to be running to be YOUR FIRST International Senator!
An international student myself, I fully understand your struggles of living thousands of miles away from home, studying and speaking in your non-native language. I hope to use my platform to represent and advocate for YOU, and create a more organized, sophisticated, and personalized support system for ALL international students.
Qualifications:
- Administrative Chair of AS Commission for Marginalized Genders
- Fellow of AS President's Office
- Activities Officer of high school International Student Organization
- Intern at International Rescue Committee
- Federal Policy Analyst of AS External Affairs Committee
My Visions for YOU:
> ENSURE international students' safe & timely return to campus, and a sufficient amount of remote classes opening in future quarters for those who are unable to return yet
> CREATE campus positions and internships designated for international students, and OPEN grants and other existing opportunities to international students
> ESTABLISH one-on-one mentorship program for international students by working with offices and organizations for international students, & AS Boards, Committees, and Units
> IMPLEMENT quarterly survey system collecting international students' concerns, comments and questions, which will serve as guidelines for future events & action items
> PERSONALIZE academic, mental health, career, and legal resources on campus to the needs and backgrounds of international students
> ORGANIZE workshops & events on topics pertaining to international students, such as visa renewal and sexual assault, w/ related campus organizations & international student entities
Questions? Please feel free to contact me via email ruofan@umail.ucsb.edu or WeChat 2605001425.
VOTE APRIL ZHANG as your #1 INTERNATIONAL SENATOR & VOTE ISLA VISTA PARTY!