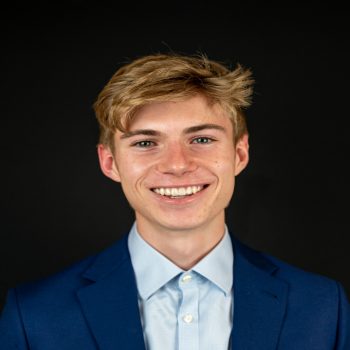 Alexander Liebetrau
Off Campus Senator
Storke Party
STATEMENT
Are you living in Isla Vista this coming school year?
So am I! My name is Alex Liebetrau, and I am a second-year Financial
Mathematics and Statistics major. I am excited to announce I'm running to be YOUR
next Off-Campus Senator with the Storke Party!
For better or worse… we have made it through a year of tough and often mentally
draining times. This coming school year we have the promise of in-person, pandemic free
schooling, something that enables us to explore the variety of possibilities that living in
Isla Vista has to offer. I believe that by supporting and enabling students to thrive going
into our next year, we will be able to bounce back in remarkable fashion. Let the IV spirit
reign free!
Qualifications and Accomplishments:
● Commissioner of Budget and Finance for the Office of the President
● UCSB Housing Representative for Santa Catalina's Hall Council
● Member of Delta Sigma Pi Business Fraternity, Finance Connection, and Data Science
Club
My Goals:
● STRENGTHEN OUTREACH PROGRAMS: Inform and connect UCSB
students with job and career opportunities, and assist students with vital
post-graduation transition
● SUPPORT STUDENTS AFFECTED BY BASIC NEEDS INSECURITY:
Streamline simple, accessible ways to obtain basic needs resources from the AS
Food Bank and Miramar Food Pantry
● EMPHASIZE MENTAL HEALTH INITIATIVES: Providing proactive mental
health resources to help maintain a positive mental health; working with the AS
Mental Health Task Force to create social and stress-relieving events at UCSB
● IMPROVE SUSTAINABILITY: Collaborate with the AS Department of Worms
to extend campus compost bin resources to public spaces in the IV community
If you have any questions, please feel free to email me at aliebetrau@ucsb.edu.
Let's keep striving to make the most out of life at UCSB and in Isla Vista. Vote ALEX
LIEBETRAU as your #1 Off-Campus Senator and VOTE STORKE PARTY!