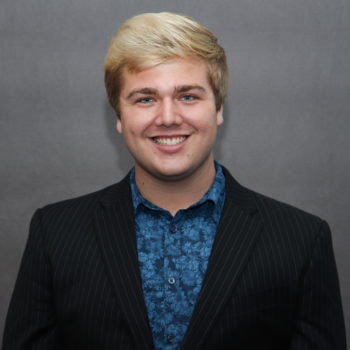 Tyler Ferguson
Student Advocate General
Independent
STATEMENT
Hey UCSB! I'm Tyler Ferguson, and I am running to be your next Student Advocate General!
As the Student Advocate General, I would have the distinct honor and privilege of advocating for UCSB students who are going through an academic, disciplinary, financial, or personal grievance case with the University. I believe I am uniquely qualified for this position, and I am ready to get to work for YOU!
MY QUALIFICATIONS:
- Off-Campus Senator in the 70th A.S. Senate: PASSING LEGISLATION, including a bill to ESTABLISH TWO INTERNATIONAL STUDENT SENATOR SEATS in A.S. Senate to ensure equitable representation, a bill to ESTABLISH LIVING HISTORY PROJECT as an official A.S. ENTITY that PAYS UCSB UNDERGRADUATES $200 PER QUARTER TO CONDUCT THEIR OWN RESEARCH PROJECT, and a resolution in support of ROLLING OVER LEFTOVER MEAL PLAN SWIPES.
- Member of Finance and Business Committee: ALLOCATING FUNDS to programs, events, clubs, and organizations on campus that benefit the student body at large, FORMULATING THE A.S. BUDGET for next school year, and FACILITATING ACCESSIBILITY & TRANSPARENCY within Associated Students.
- Deputy Chief of Staff for Kelly Faul For State Assembly: ELEVATING YOUNG VOTERS' VOICES, CO-MANAGING the campaign's office staff, and PROMOTING TANGIBLE POLICY CHANGES for the state of California.
- Pre-Law student: PREPARING for a career as a PUBLIC DEFENDER, DEDICATED to EASING THE BURDENS of those who are struggling.
AS YOUR STUDENT ADVOCATE GENERAL, I WILL:
- AMPLIFY student voices.
- EXPAND student resources.
- LISTEN to students.
- ADDRESS student concerns.
- FACILITATE inclusivity.
- ENSURE students know their rights.
- ADVOCATE for all students.
- FIGHT like Hell for you.
If you have any questions, please feel free to email them to me at TylerFerguson@ucsb.edu.
For a leader you can trust, vote Tyler Ferguson for Student Advocate General.
Vote on GOLD - April 20th-23rd.