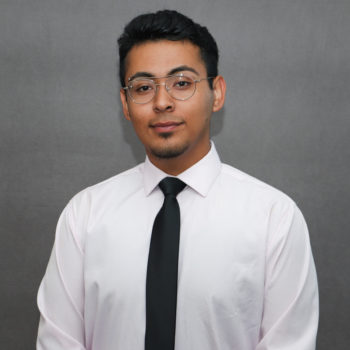 Jose Gonzalez-Herrera
Collegiate Senator - Letters & Science
Isla Vista Party
STATEMENT
Hello everyone 🙂
My name is JOSE GONZALEZ-HERRERA, a Sociology major with a minor in Applied Psychology, and I am ready to be YOUR next College of Letters & Science Senator with the ISLA VISTA PARTY!!
I'm a first-generation queer latinx student (pronouns: he/they) from the city of Soledad, California. As the son of immigrant agricultural workers, my communities have helped foster my education and learning, and are a huge part of what I study, what I invest myself in, and what I am passionate about. That's why at UCSB, I believe change and creating community are some of the most important parts of the college experience.
QUALIFICATIONS:
President-elect of Theta Nu Kappa Multicultural & Academic Fraternity, Inc.
2019 A.S. Queer Commission's Pride Co-Chair
"Interpersonal Violence (IPV) Prevention Education" Peer Facilitator for OSL
Certification in 'The Art of Inclusive Communication' by the National Conflict Resolution Committee
As an L&S Senator I would:
HELP IMPLEMENT Students Against Sexual Assault (SASA) and Dr. Victor Rios' "Deconstructing Toxic Masculinity" curriculum for members of Greek Life and EXPAND education on topics surrounding interpersonal violence. We must address this issue and hold accountability to support survivors.
ADVOCATE for increasing student wages for student employees. Looking for ways to increase the wages of our student employees is a root solution in helping students achieve their academic goals and live affordably.
EXPAND and CREATE a method/website where students will be able to access remote advice. Academic advising is inaccessible to many students for a multitude of reasons. We must be able to provide the services students pay for and work within their schedules and needs so that they can receive transparent advising without challenges.
VOTE Jose Gonzalez-Herrera #1 for College of Letters and Science Senator!!!