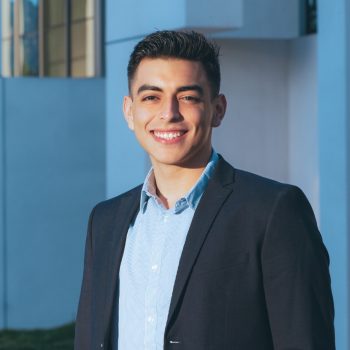 Carlos "Andy" Ruiz
President
Independent
STATEMENT
My name is Andy Ruiz (He/Him/His). I am a fourth-year Sociology major, pursuing a double-minor in Feminist Studies and Education and I'm excited to be running to be YOUR next A.S. PRESIDENT!!
This school year is turning out to be nothing like what we had expected. Although disappointed, I'm hopeful for the future. So many of us have been personally affected by the academic and personal struggles of living through this pandemic. As a result, it is imperative for Associated Students to effectively respond to students' needs in face of a global crisis. I'm looking forward to working WITH you and FOR you to bring about tangible change to our campus for the remainder of the year.
LEADERSHIP EXPERIENCES:
-2x Deputy Chief of Staff for the External Vice President for Local Affairs
-Co-Chair of the Student Commission on Racial Equity
-Quarter-long proxy for the 70th Senate
MY PLAN:
-COVID-19 RESPONSE: provide transparent and timely updates concerning the administration's campus reopening plans and ongoing COVID-19 prevention strategies. I will additionally focus on expanding campus testing sites.
-REOPENING CAMPUS SAFELY: work with the administration to develop plans to safely reopen essential student services such as the Pardall Center, printing labs, and the library.
-HOLD ADMINISTRATION ACCOUNTABLE: Work alongside students and organizations to put pressure on the administration to follow through with established student demands.
-SUPPORT SURVIVORS: Specifically center the needs and demands of SVSH organizations and survivors on campus.
-REMOTE LIBRARY ACCESSIBILITY: Support open-source textbook initiatives and move towards digital course readers rather than costly textbooks.
Add me on Facebook at Andy Ruiz and Instagram/Twitter @andy_ruiz99 to learn more about my platforms. Stay safe everyone.
VOTE CARLOS ANDY RUIZ FOR PRESIDENT!!