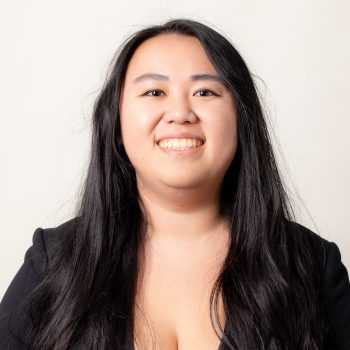 Rachel Ng
External Vice President - Statewide Affairs
Independent
STATEMENT
WHO I AM!
My name is Rachel Ng, and I am a 4th year Biological Sciences and Global Studies student
campaigning to represent you all as your next External Vice President of Statewide Affairs.
Since coming to UCSB, I have been an active leader on campus and have been involved in a
variety of different activities. If I am elected as the next EVPSA, I will spend the rest of the year
lobbying and advocating to increase the number of much needed resources available to UCSB
students.
WHAT I DO NOW!
- AS Human Rights Board Chair for 2 years
- Founding member of Students Against Sexual Assault; assisted with planning the
Fall Town Hall, worked to establish the first Survivor Resource Center in Isla
Vista which will be opening in February.
- Founding member of Students for Reproductive Justice: created art installation in
support of safe, legal, and accessible abortions for all people
- Student Activist Network Member
- Organized logistics to enable 47 students to attend a Planning Commission
meeting in Santa Maria to oppose oil drilling in Cat Canyon
- Undergraduate Research Assistant for the Center on Gender Equity and Health
- Researching attitudes around sexual assault on the UCSB campus in relation to
UCLA and UCSD
- Founding member and Vice-President of the Eta Omicron chapter of Sigma Iota Rho, a
collegiate honor society for international studies
- Connects high achieving student scholars to each other and other industry
professional to increase the presence of the Global Studies Program on campus
WHAT I WILL DO AS YOUR NEXT EVPSA!
1) Advocate for increased gun control regulation → I will collaborate with Everytown for
Gun Safety to ensure that student voices and concerns on this issue are being prioritized. I
will advocate for measures such as a national permit-to-purchase and the Domestic
Violence Loophole Closure Act.
2) Increase resources for sexual assault survivors → I will continue lobbying for the end of
the rape kit backlog and work with our elected officials for the reintroduction of SB 1449.
This bill would ensure all rape kits are processed in a timely manner so as to prevent
future backlogs. In addition, I will work with the UCSB International Student Advisory
Board to ensure that all students have equal access to the resources on our campus.
3) Decrease the number of barriers preventing access to reproductive resources → Students
should be able to access free feminine hygiene products in all bathrooms on campus.
Furthermore, I have already worked towards ensuring Student Health provides accessible
medicated abortions to all students per SB 24. As EVPSA I plan on furthering this work
by arranging multiple lobby trips to Sacramento to support the passage of this bill.